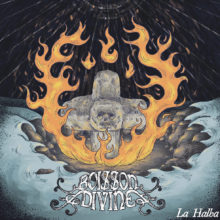 release date:
May 27, 2020
share:
STYLE : Folk Metal
ORIGIN : Gascony/France
DURATION : 58:00
BOISSON DIVINE – La Halha
BOISSON DIVINE is the after school musical side project of two childhood friends, who met on the playground benches in Riscle, a small rural village in Gascony. BOISSON DIVINE is the improbable and unique blend of every single aspect they love in music: A Heavy / Power Metal foundation, Punk-Rock energy, traditional instruments of their motherland, Pyrenean polyphonic singing and of course all in Gascon language. The years passed by and they realized that they had enough compositions for recording. So they put that into play and in 2013 their first album, "Enradigats", was released. Against all odds - and to their great surprise - it was very warmly received, the positive reviews piled up. "I found the best French Folk Metal Band of 2013, and I challenge anyone to say the opposite." Sens Critique "They just sound fresh and different from the slew of other bands inhabiting this sub genre." The Metal Observer (USA) "Boisson Divine sends some heavy stuff for a first album, a good slap that feels pretty good." Soil Chronicles "This is an excellent and incredible start for the Gascon pair, who has nothing to deny its divine character." Spirit of Metal "You have the green light to go stun with the pagan folk metal of a future specialist of the genre." Kaosguard At that time, the duo simply hadn't thought about performing live themselves but the requests kept coming. That's when the inquiries for them to play at concerts flocked in, however not being able to perform live at the time for lack of musicians, the group gradually remedied this problem and over two years the duo became a sextet. They began to take their first steps, locally, in the Occitanophone environment - very fond of their linguistic approach. Little by little the gigging scene became more and more prominent in the life of the group. Their second album "Volentat" was released early 2016, more mature and more sought after. The reviews are even better than the first album. "Here's how to release two masterpieces in three years" Eniok Metal - Youtuber "Un gran disco con grandes melodías, grandes instrumentaciones de folk, grandes voces y grandes canciones." Metal en Mundo (Spain) "With a unique take on the genre this album can really propel them forward in a big way." Folk-Metal.NL (Netherlands) "Boisson Divine is undoubtedly one of the best Folk Metal combos in France, simply." France Metal Museum "The band is what the France has produced more convincing in style since the beginning of the decade. The kind of group whose support should become a national cause." Nightfall in the metal earth This second album will mark a turning point and will allow the band to finally play in the Metal medium throughout France and in Belgium, for very nice festivals (Ragnard Rock, Cernunnos, Sama'Rock, Trolls and legends, Paris Metal France Festival ...) including renowned groups such as Eluveitie, Arkona, The Hu, Saltatio Mortis, Finntroll, Faun, Heidevolk, Moonsorrow, Manegarm, Rotting Christ ... The highlight will be a tour of three dates in Japan in 2018 with Ensiferum, Trollfest, Windrose... Locally, recognition comes too.Thanks to the popular and traditional side, the songs of BOISSON DIVINE are studied in bilingual schools French / Gascon by students, from kindergarten to college. In March 2019, the group even performed some acoustic arrangements of compositions from their album, accompanied by more than 80 students. Several polyphonic groups of Gascony, of all ages, also cover BOISSON DIVINE in their repertoire. Attacking on all fronts and armed with a flawless motivation, they will release their opus "La Halha" on May 2020. An album even more grown up, personal, with a wide range of influences and an even greater musical wealth while remaining faithful to their roots. A balance between complexity and heavy catchiness.
LABEL : Brennus Music
DIGITAL DISTRIBUTOR : Believe Music