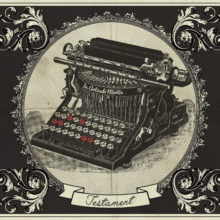 release date:
October 07, 2016
share:
French melodic black metal of the 90's
Duration : 36:32
IN ARTICULO MORTIS – Testament
1. In articulo mortis
2. Le don obscur
3. Succubus
4. La rose et le marbre
5. My underwater queen
6. Embrace the reapers wrath
7. Lunar State
"Testament" is the album we were due to release back in the 90's era, it took us two years of work to bring you this piece of black metal. A lot of things happened since then, we are no longer part of the scene but we wanted to release this testimony of our early days in the scene but also pay a tribute to the french Black metal scene of the 90's and all the people we met through these years. This record will close this chapter of our lives though Metal music will always remain in our souls. We hope that you'll enjoy our Testament as much as we had pleasure recording it. Songs such as "My Underwater Queen", "La rose et le marbre", "Succubus" were on our 1995's demo tape "Sombre Mélancolie" and are slightly re-arranged. "Diaboli in amorem" is our fist ever writter song. The other ones are never-released materials written in the 90's. Testament was recorded and mixed betwen December 2012 and november 2013 in Paris.
Herbert West Productions
Format : Digipack CD