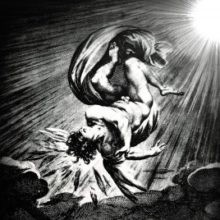 release date:
December 18, 2015
share:
LIFESTREAM – Post Ecstatic Experience
1. Introspective Maze
2. Lifeless Solace
3. Two Faces
4. Sad Thoughts Overdose
5. An Unfathomable Dereliction
6. Beyond The Seventh Heaven
7. Parasite Glory
Formed in 2012 by members from the Black Metal and Death Metal scene, LIFESTREAM offers an ethereal and mesmeric Black Metal. Sometimes melancholy, sometimes lugubrious and occult. It is during the Summer 2014 that the band enters the Darkened Studio to record its first album entitled « Post Ecstatic Experience » which presents various approaches to the correlation between ecstasy and collapse. This duality is reminded in every performance, tragically bright. In this sense, LIFESTREAM is the mirage of a reachable happiness, the radiance of a dead star, it represents the fragile bridge linking Man to Mysticism, Rapture to Madness or even Suffering to the Fall of individual.
Emanations
Formats: Pro Tape > TEM-03 (100 copies) // CD 3 panel digisleeve > AO-046 (500 copies)