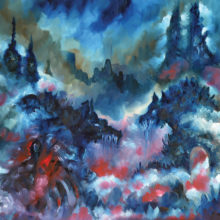 release date:
June 15, 2017
share:
RELEASE DATE : 15 JUNE 2017
Doom Metal
Duration: 41:14
TOMMY STEWART'S DYERWULF
1. Lilith Crimson Deep
2. Behold! Your World Now Burns
3. Through A Dead Man's Eye
4. Porpoise Song
5. Horrorshow
6. The Man Who Sold Rope To The Gnoles
7. Prince Of Fools
8. With Darkened Eyes
TOMMY STEWART'S DYERWULF IS TWO PIECE DOOM METAL THAT FEATURES BASS, DRUMS, AND VOCALS ONLY.  The first official album is entitled "Tommy Stewart's Dyerwulf" and is now released in 2017 by Soman Records. Tommy released a solo album in 2015 named "Clef Doom" and thought it would be interesting to do it live. Drummer Eric Vogt, who also performs in Armed Chaos, was added and the name altered. After overwhelming positive response to live shows, this form was quickly signed by Soman Records. Tommy is also known for Thrash band Hallows Eve, Doom band Bludy Gyres, and is a producer with a studio known as Blue Ogre Noise Lab. Tommy Stewart's Dyerwulf live includes songs from different parts of Tommy's career including new songs, but also interpretations of Bludy Gyres and Hallows Eve.
Soman Records
Formats: Limited jewel case cd with a 4 pages booklet (500 copies) > soman combo 002 cd
Limited deep purple colored vinyl (300 copies) > soman 002 vinyle