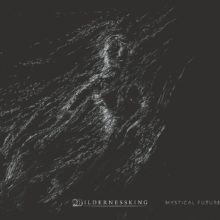 release date:
February 26, 2016
share:
Post Rock / Black Metal
Duration: 42min
WILDERNESSKING – Mystical Future
1. White Horses
2. I Will Go To Your Tomb
3. To Transcend
4. With Arms Like Wands
5. If You Leave
Wildernessking was established in May 2011 as a forward-thinking metal band. Starting out as a fun, black 'n roll project called Heathens in 2010, the band morphed into a progressive force, encompassing many genres and styles on the way. Releasing their debut full-length album on Antithetic Records in February 2012, followed by a self-released EP in June 2012 and a couple of music videos, Wildernessking took the underground music scene by storm and to critical acclaim. In 2013, the band focused on writing new material, and did their first local tour, playing both Johannesburg and Pretoria in South Africa. In 2014, the group released their highly regarded EP, The Devil Within, and was the only African band to appear on Elemental Nightmares, a vinyl project consisting of 26 bands and spanning 7 ten-inch split albums, released over the course of 2014. 2015 saw the band releasing their track, Soundless Longing, for the Secret Ceremonies compilation, an album featuring forward-thinking South African bands, which will see a physical release in 2016. Now playing a hybrid of black metal, rock and ambient music, the group is set to release their brand new full-length record in early 2016 through Sick Man Getting Sick Records, Grimoire Cassette Cvlture, Monotonstudio Records and Les Acteurs De L'Ombre Productions. 2016 will also see the release of a brand new EP, through Permanent Record and Breathe Plastic Records. The band plans to tour, both locally and internationally, in support of these releases.
Les Acteurs de l'Ombre Productions
Formats: 3 panel digipack CD > AO-045 (1300 copies)